Food & Drink
Evening With The Masters
Sponsored by:

Meals on Wheels Delaware
Date:

Friday April 25, 2014, 6:30 pm - 10:00 pm
All Dates for Evening With The Masters
Friday April 25, 2014, 6:30 pm
Admission:

$75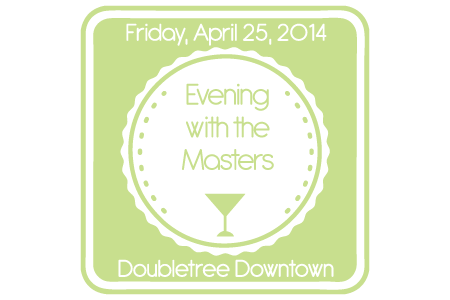 Enjoy tastings by 45+ top local and regional restaurants, a tented craft beer garden, wine and unique cocktails, live music and so much more! Meet WSTW's Spencer Graves as he hosts the event. This is a 21 years or older event. All proceeds benefit Meals On Wheels Delaware - ensuring over 4,000 homebound seniors throughout the state can rely on a hot, nutritious meal delivered by a caring volunteer each day. Last year, volunteers delivered over 725,000 meals statewide.

April 25, 2014 • 6:30 – 10:00 pm
Doubletree Downtown • 700 N King St • Wilmington, DE
Tickets $75 • Purchase Online
Sponsors • Event Participants • Craft Beer Garden • Weekend Deals
Event Participants
16 Mile Taphouse
Amtrak
Branmar Wine & Spirits
Buckley's Tavern
Caffe Gelato
Cantwell's Tavern
Centreville Café
Chesapeake Inn
Delaware Park
Fins Fish House and Raw Bar
Fusions Tasters Choice
Harry's Hospitality Group
Home Grown Café
Hotel DuPont - Desserts by Michele Mitchell
Kreston Wine & Spirits
La Casa Pasta
Maiale
Metro Café
Montrachet Fine Foods
Napoli Family Restaurants
Not by Bread Alone Catering
Ole Tapas Lounge & Restaurant
Philadelphia Distilling Company
Pizza by Elizabeth's
Skipjack
Soffritto Italian Grill
Standard Distributing
Sweet Somethings
The Green Room at the Hotel DuPont
The House of William and Merry
The Westin Wilmington
United Distributors of Delaware
Woodside Farms Creamery
World Café Live

Craft Beer Garden featuring: 16 Mile Brewery • Brewery Ommegang • Brooklyn Brewery • Dogfish Head Brewery Evolution Craft Brewing Co. • Flying Dog Brewery • Flying Fish Brewing Co. • New Belgium Brewing Company • NKS Distributors • Old Dominion Brewing Company • Samuel Adams • Sixpoint Brewery • Standard Distributors • Stone Brewing Co. • Troegs Brewing Co. • Twin Lakes Brewing Co. • Two Stones Pub • United Distributors of DE • Victory Brewing Company • Weyerbacher Brewing Company • Yards Brewing Co.  
700 King St.
Wilmington, DE 19801
302.429.8407
Parking Options
Private Parking
Valet Parking
On-street Parking